Relax your muscles, reduce your stress, keep your body moving and your mind calm. The benefits of massage are numerous, massage has been shown to be an effective treatment for reducing stress, pain and muscle tension.
Relaxation Massage: classic strokes glide, knead and smooth to relax, reduce stress, detoxify and rejuvenate. Hot towels and sensual therapeutic-grade essential oils enhance this deeply restorative treatment.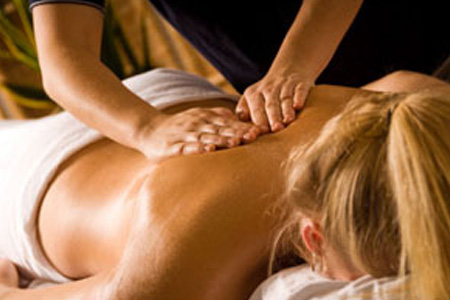 Therapeutic Massage: deeper, targeted pressure relieves pain, increases circulation and mobility and accelerates healing. An effective muscle shortening technique (structural relief therapy) is sometimes used to further address troubled areas. Powerful essential oils and hot towels enhance the therapeutic effects.
Combo Massage: Combination of Therapeutic for those areas in need and Relaxation for the whole body.
Hot Stone Massage: Soothing heat from smooth, basalt stones penetrates achy muscles, melting tension and relaxing the whole being.  The heat can be both deeply relaxing and help warm up tight muscles so the therapist can work more deeply.
Pre-Natal Massage: Massage therapy during pregnancy is a wonderful complementary choice for prenatal care. It is a healthy way to reduce stress and promote overall wellness. Massage relieves many of the normal discomforts experienced during pregnancy, such as backaches, stiff neck, leg cramps, headaches and edema (or swelling). A relaxing treatment for baby and you.
Price For All Treatments
45 minutes  – $75
60 minutes  – $95
75 minutes  – $120
90 minutes  – $135
120 minutes – $165