Relax your muscles, reduce your stress; keep your body moving and your mind calm. The benefits of massage are numerous. Massage has been shown to be an effective treatment for reducing stress, pain and muscle tension.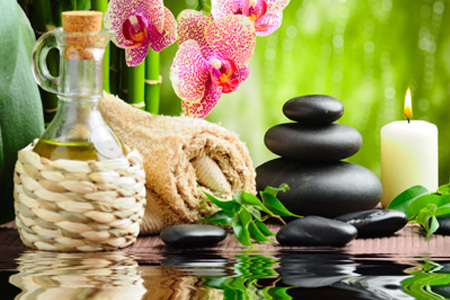 Relaxation Massage: classic strokes glide, knead and smooth to relax, reduce stress, detoxify and rejuvenate. Hot towels, organic lotions and aromatherapy oils enhance this deeply restorative treatment.
 Therapeutic Massage: deeper, targeted pressure relieves pain, increases circulation and mobility to accelerate healing. Our therapists use a variety of modalities to further address troubled areas. Organic lotions, healing salves, aromatherapy and hot towels enhance the therapeutic effects.
 Combo Massage: combination of Therapeutic for those areas in need and Relaxation for the whole body. If you mainly want to relax but have one or two problems areas that need a little extra attention this is a wonderful choice. Organic lotions, healing salves, aromatherapy and hot towels are part of this restorative treatment.
 Side by Side Massage: unwind, soothe and rejuvenate your senses together. Share the gift of massage with a loved one on side-by-side massage tables. This is wonderful experience for couples, best friends, sisters, brothers or moms and daughters. Organic lotions, aromatherapy and hot towels add to the healing massage experience.
 Pre-Natal Massage: Massage therapy during pregnancy is a wonderful complementary choice for prenatal care. It is a healthy way to reduce stress and promote overall wellness. Massage relieves many of the normal discomforts experienced during pregnancy, such as backaches, stiff neck, leg cramps, headaches and edema (or swelling). This is a relaxing treatment for baby and you.
Massage Rates:
60    minutes – $100
75    minutes – $125
90    minutes – $140
120  minutes – $170
Signature Massage Treatments
Earth, Water, Spirit: this 3-in-1 treatment combines Hot Stone, Relaxation Massage and Reiki to create a transformational experience. It's a great chance to try something new in this balanced treatment that uses organic lotions, hot towels and aromatherapy.
 Hot Stone Massage: soothing heat from smooth, basalt stones penetrates achy muscles, melting tension and relaxing the whole being.  The heat can be both deeply relaxing and help warm up tight muscles so the therapist can work more deeply. The healing nature of the hot stones is amplified by either relaxation, therapeutic or combination style massage. We use hot towels, aromatherapy, and organic lotions to complete the experience.
Signature Services Rates:
60    minutes – $105
75    minutes – $130
90    minutes – $145
120  minutes – $175
Chair Massage: While both chair massages and traditional massages aim to relieve stress, muscle tension and pain, chair massage techniques focus on pressure points located in the back, neck and shoulder areas while traditional massage addresses the entire body. Because the focus is on a smaller portion of the body, a full chair massage can typically be completed in about half the time of a traditional full body massage.
Walk in clients welcomed. $1 per minute
Lavendera Massage offers several treatments to Balance your energies and bring to being a more harmonized mind, body and soul.
High Touch Jin Shin: an ancient Oriental therapy using gentle fingertips to harmonize and restore energy flow and relieve stress. The person receiving the treatment is encouraged to relax and this enables the energy to circulate to whichever depth the person needs, accessing all levels of the energy flow.
Reiki: a healing technique based on the principle that the therapist can channel energy into the patient by means of touch, to activate the natural healing processes of the patient's body and restore physical and emotional well-being. Hands are placed on or above the body to strengthen, calm and/or balance energy in this deeply relaxing and restorative Japanese technique.
Reflexology: reflex points in the feet are used to relieve tension and bring balance throughout the body.
Energy Treatment Rates:
30 minutes – $55
45 minutes – $75
60 minutes – $95
75 minutes – $115
90 minutes – $135
Our spa treatments go beyond a sensual journey and are provided by our experienced practitioners.
Body Exfoliation: corn meal, sugar or salt infused with oil exfoliates, stimulates, re-mineralizes and smoothes the skin. (Clients should not shave or wax 24 hours before treatment.)
60 Minute Treatment – $115
Body Wrap: skin is exfoliated, then clay-brushed to detoxify and wrapped. Moist, warm towels and essential oil lotion complete this deeply cleansing treatment. (Clients should not shave or wax 24 hours before treatment.)
90 Minute Treatment – $165
Face Treatment: A relaxing facial using the organic Acure product line that is excellent for all skin types. Our facial includes: cleansing, exfoliating, mask, toner, moisturizing and a facial and neck massage that leaves the face energized and radiant. It does not include a skin analysis or extraction work.
30 Minute Treatment – $50
Foot Soak & Massage: a soothing soak in Epsom salts and essential oils, followed by a scrub and focused massage using organic lotions on feet, ankles and calves leaves your feet feeling light and energized.
30 Minute Treatment – $45
Foot Massage: Hot towels, healing essential oil spray and organic lotion/oil combined with focused massage on your feet, ankles and calves leave you relaxed and happy.
30 minute – $35
 Hot Oil Scalp: hot oil drizzled and massaged into the scalp conditions and relaxes the entire body
15 Minute Treatment (add on only) – $45
Special Military Discount: 15% off of all services 1 hour or longer.