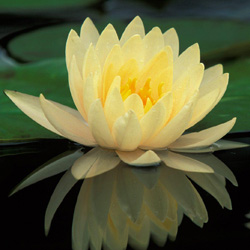 Katrien is a native of Flanders, Belgium. After a nature journey on the Big Island of Hawaii she decided to explore the San Juans and settle in the land of the Orcas. She graduated with the Port Townsend School of Massage in 2002 and has been part of Lavendera since 2010.
Relaxation massage is definitely her specialty, with a flair for finding the areas in the body which need deeper therapeutic work. Katrien also studied some reflexology and also became a certified Jin Shin Jyutsu practitioner in 2011. Jin Shin Jyutsu is a form of acupressure work for balancing the breath in the body and attaining a state of deep relaxation. Upon occasion Katrien has been able to help animals in a most touching way by means of Jin Shin Jyutsu and some flower essences.
Hawaii has forever stolen Katrien's heart, where she loved swimming with the wild spinner dolphins and she hopes to some day in the near future introduce her daughter to the warm Hawaiian waters. On San Juan Island she loves to hike and take pictures in nature. She treasures spontaneous close encounters with wildlife, like the one time while she was driving a raven came swooping by so close she could hear its wingbeat.
Recently, she was offered a scholarship for an online course in Biblical Hebrew with the University of Jerusalem. She is looking forward as to what this course might bring, exciting new learning.